On top of flagship business units of USB Touch monitors and flat panel display, MultimediaLink delivers also Android
Embedded Solutions and Smart Devices locally and globally. Our engineering service of customizations project includes
a complete range from board support package, platform porting, user interface(UI) to application programming.

This set of our professional Android Embedded services help customers realize ODMs and OEMs of both Industrial and
consumer products as smart TV and set-top-boxes, mobile connected devices, In-car AV infotainment systems, home
appliances, POS devices and many display application sets.

We strongly believe that all advantages such as our skilled people, development know-how and production outsourcing
management can translate to the better strategy tailored on customers' specific needs, lowering development costs and
offering robust and effective solutions.
Android Embedded Board Engineering Service
Rich feature sets optional for ARM-based AP chips
ARM® Cortex™ series-based low power consumption
Cutting-edge functionality in networking and connectivity
Design services include:

Schematic and PCBA Artwork
LCD and Touch driver support
Firmware/Driver support
Industrial and Commercial Design
Prototyping & Manufacture
Custom Android Apps and UI
Short lead-time to Prototyping in 4 months
MultimediaLink offers a variety of ARM-based SoC platforms for the applications ranging from mobile connected devices to
industrial Solutions such as a tablet-like bezel-less display monitor, middle-sized digital signage, mobile POS Pad and
infotainment system. Our aggressive approach to a new technology also comes to embrace the latest powerful new dual-
operating system, featured with Window and Android in the same device and powered by a new quad-core Intel Atom-based
SoFIA SoC.
Specification
Z3735F
MT8125
RK3288
A315
CPU
Quad-core 64-bit Atom x3
Quad-core 32/64 bit
Quad-core 64-bit
Quad-core 64-bit
Frequency
1.33~1.83GHz
1.2GHz
Up to 1.8GHz
1.2GHz
GPU
Intel HD Graphics(Bay Trail)
(311 - 646 MHz)
SGX544
Mail-T764
SGX544MP2
Memory
1x32 LPDDR2/3
LPDDR2
DDR3,DDR3L,
LPDDR2 SDRAM
PDDR3/LPDDR2/
DDR3/DDRL
video
FHD 1080P
FHD 1080P
FHD 1080P
FHD 1080P
Display Resolution
Up to 1920x1080
1280x1080
1920x1080
Up to 1920x1080
Connectivity
WiFi 802.1bgn,
Bluetooth 4.1 LE,
GPS & GLONASS,
FM Radio
WiFi 802.1bgn
GPS, Bluetooth 4.0
WiFi 802.1bgn
GPS, Bluetooth 4.0
WiFi 802.1bgn
GPS, Bluetooth 4.0
MultimediaLink Android Products for Commercial and
Industrial domains
MultimediaLink is set to roll out newly-created Android embedded series converged with the company's display panel
technologies. It will truly represent the company's confidence on successful commercialization in the expertise area and more
than help customers maximize value-added advantages.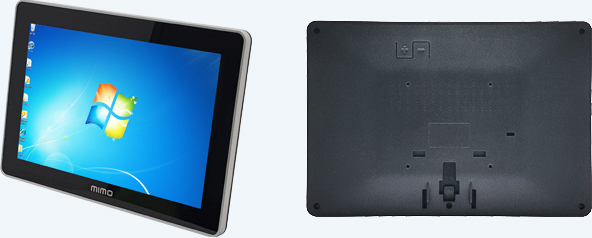 MIMO Vue HD
For more information, please email us at sales@multimedia-link.com or give us a call @+82-31-478-0292